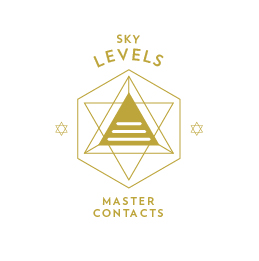 Mataji Shaktiananda and the Masters designed the SKY Teaching
in 7 levels of inner work conceived in the elevation codes consciousness
and self-knowledge of this time and with the depth of the primordial wisdom.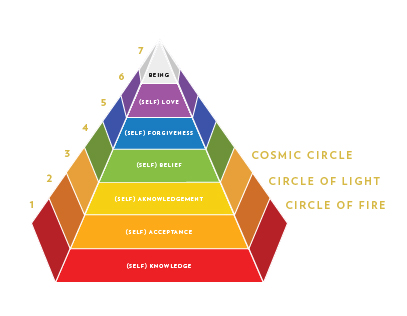 The work of the Divine Values School student contemplates the passage through 7 Levels of Teaching. Each Level operates from different activation proposals and guides the practitioner's inner work.
Each SKY Level guides the Student towards a work of self-knowledge and the restoration of internal photonic circuits to achieve the total principle of Being.
The Levels are possible stages within the conscious process of Self-realization and they bring together all the aspects that the Being must attempt for his total recognition. The Levels and their keys can be studied in the School's Pyramid of Values.
The fundamental aspect in the conception of the Levels resides in their esoteric meaning: With the Initiation the Spheres of assistance are opened to the student and the recognition of his photonic code is given, which, as it progresses through the Levels is modulated. Also, the projection of Light frequencies on the student's energy fields increases in proportion to his progress, responding to the highest Evolutionary and Assistance Laws of Love.
In addition to the assistance from the Immortal Masters Spheres in each Level the student receives

:
The knowledge and techniques of Shiva Kriya Yoga aimed at the purification and reconnection of the internal photonic circuits and the reactivation of the DNA helices.
---
From the Initiation and throughout the course of the School Teaching, the SKY Instruction is delivered monthly, it is made up of the SKY Lessons and the revelations of Transcendent Wisdom that are fundamental in the reprogramming of codes of Light and Divine values.
---
The student is offered the necessary teaching and guidance on the processes of healing and dissolving negative programs at the karmic level through keys and techniques developed by Babaji and Mataji Shaktiananda.